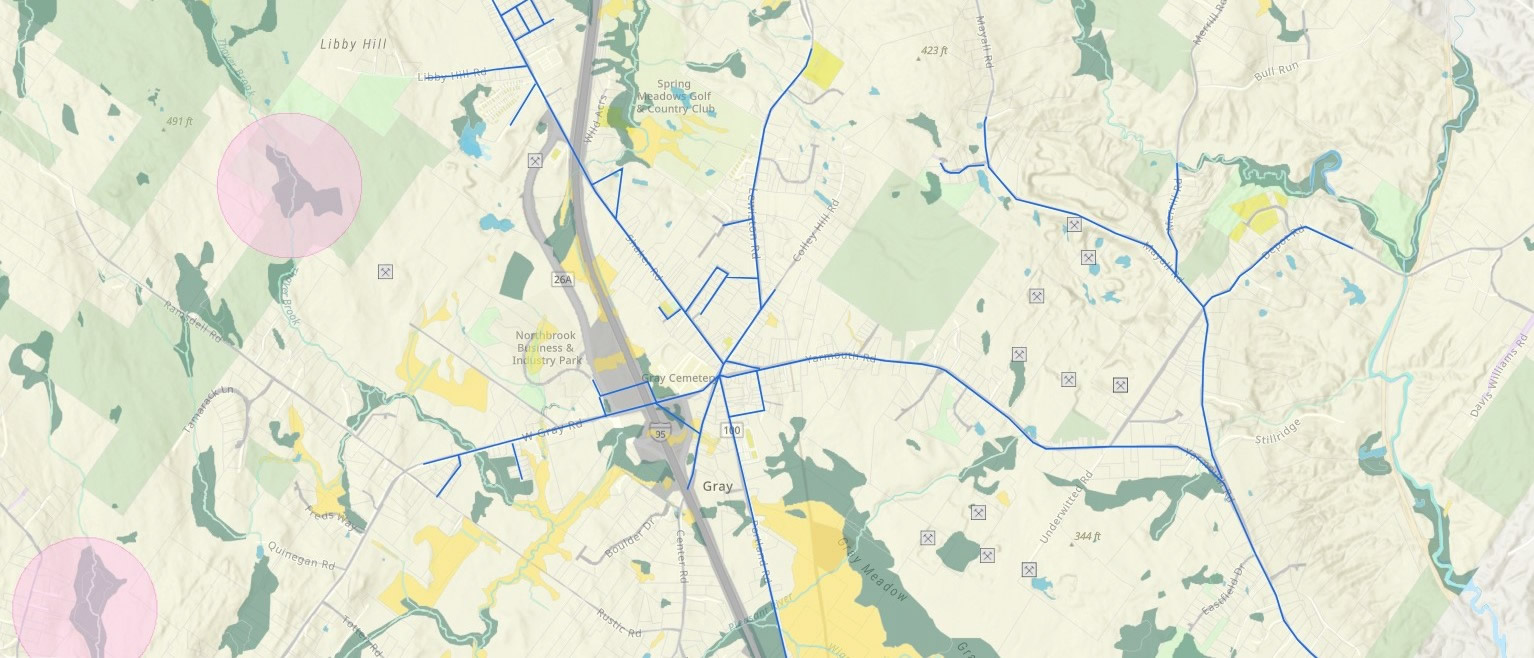 Gray – At the Heart of it All!
Gray continues to be one of Maine's fastest growing towns because of its affordability and central location. Blending a balance of outdoor recreation with easy access to Maine's cultural hubs, Gray is a popular community to live and play.
Gray is located directly between the major cities of Lewiston and Portland and just a 15–30-minute ride to the nearby Maine destinations of Portland, Lewiston, Freeport, Brunswick, Oxford, Yarmouth, Windham, and Naples, Maine. It is also centrally located to dozens of recreational trails in the surrounding towns.
Other Outdoor Activities
Thayer Brook Preserve – This new land preserve was created in March 2022 and will provide connecting trails to the Libby Hill Trail system. Volunteers are still being sought to help plan and build trails on this 147-acre preserve that runs from Ramsdell Road to Libby Hill.
Maine Wildlife Park – Many of the animals at the Maine Wildlife Park were brought here because they were injured or orphaned, or because they were human dependent – raised, sometimes illegally, in captivity. The Park serves as a permanent home for wildlife that cannot survive in the Wild. All kinds of animals are here for their protection and healing. And they're here for you to enjoy and learn more about.
Morgan Meadow– Spanning the towns of Raymond and Gray, this 1100-acre parcel of woodlands provides some of the wildest woods experience in southern Maine.  Owned by the Maine Department of Fish and Wildlife, there are a few marked trails on this property.  The property contains wetlands, streams, and upland woods.  Also of interest is Glover's Wig, which is a unique boulder ridge that is perfect for exploration.  Woods roads, a rough nature trail, and a series of mountain bike trails exist on the property. Access the parking area off Egypt Road near the town line of Gray and Raymond.
Gray Recreation Department – The Gray Recreation Department hosts many different recreational opportunities for all ages.
Pineland Farms – This 5,000-acre property has a variety of educational, food, and recreational opportunities.  Located just 10 minutes from downtown Gray, it is one of Maine's premier tourist attractions.
Pineland Maine Public Land Reserve – Located in Gray and New Gloucester and adjacent to the Pineland farms property.
Maine Trail Finder – the Maine Trail Finder is a great one stop website for finding new hiking trails in Maine.  Over fifty hikes within 30 minutes of Gray!
Yarmouth Open Space Guide – over a dozen excellent locations for recreation in Yarmouth.
Royal River Conservation Trust – many great hikes in our bordering towns of New Gloucester, Yarmouth, Pownal, Cumberland and North Yarmouth.
Presumpscot River Land Trust – Over 2000 acres of preserved land and trails spanning over a dozen properties.
Raymond Community Forest – 356-acre forest with trails and summited view of the lake's region.
Bragdon Hill Conservation Area – 455 acre preserve on North Raymond Road in Poland with an excellent trail system
Heart of Poland Conservation Area – Extensive trail system on Oak Hill in downtown Poland.
Rines Forest – A 268 acre preserve in the heart of Cumberland
Falmouth Land Trust – An extensive preserve system with many trails and connections to the Cumberland and Windham trail systems.