A Runner's View- by John Keller
If you like running on trails and on hilly terrain, Libby Hill is the place to go for a run. Over 8 miles of wide and narrow trails are located at Libby Hill. When in congested and noisy traffic on Rt. 26, within minutes one can lace up their running shoes in the parking lot and escape on a run enjoying the beautiful forest at Libby Hill.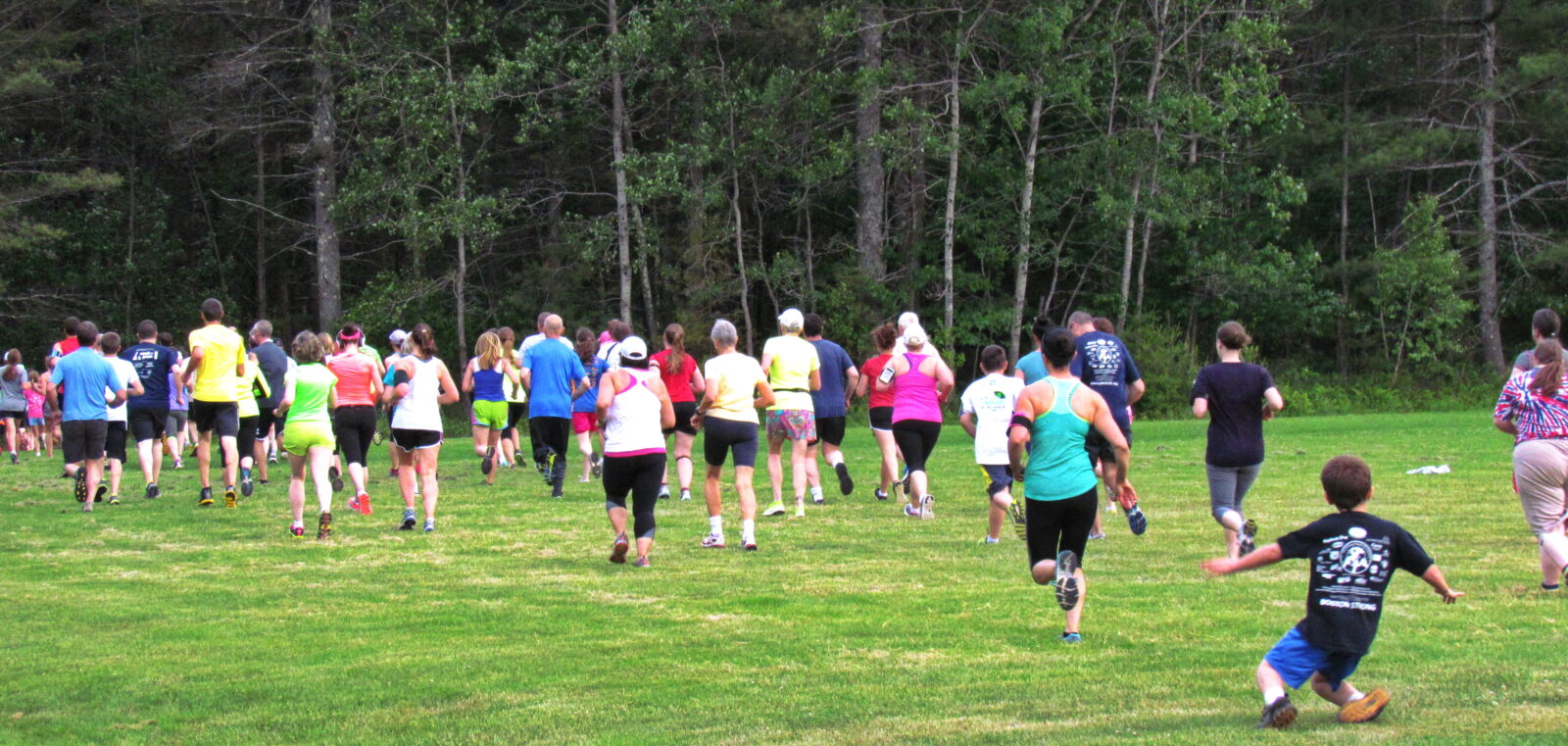 Trail running offers many benefits over running on asphalt surfaces. Like all running, trail running increases muscular strength and endurance in your quads, hamstrings, calves, and glutes, in addition to giving your heart and lungs a workout. The trails offer two types of running experience depending on your preference for a workout. Smooth groomed trails have no roots and are gentle on the joints. The narrow track trails on the other hand, serve up an unpredictable, rocky, root-filled terrain of hills, streams, and other natural obstacles. Trail running improves your proprioception (your sense of balance and where your body is in space) and taps every muscle from your shoulders on down building strength in your joints. As a result, it provides a challenging whole-body workout. It is peaceful and less pounding on your feet and joints
In Japan, a trip to the forest for recreation such as a walk or run, is called "Shinrinyoku" or forest bathing. Evidence has shown that being in the forest has therapeutic effects as it improves your physical, emotional, and mental well-being.
At Libby Hill there are 8 trails at various distances from one-half mile up to 3.1 miles in length. Runners can enjoy wide open trail runs on Moose Odyssey, Holmquist Hollow, and Turkey Trot Trails, or for a more challenging terrain can run on the narrow and sometimes rocky trails of the Lynx, Harold Libbey, Outback, and Winter Trails. Prepare to run hills if you visit L. Hill for a run. It's in the name!!!
My favorite run at L. Hill starts out in the parking lot, runs up the Lynx Trail to the H. Libbey Monument where I do a quick stretch, then run the H. Libby trail (red blaze) to Thayer Brook. I cross the brook onto the Outback Trail (yellow trail) then join the Ghost Trail (blue blaze) to the Moose Odyssey Trail (white blaze) passing the Holmquist Hollow Trail, then circle around crossing the intersection at the Old Libby Hill Rd. and running downhill to the middle school field where I run around the Turkey Trot Trail and back to the parking lot.  For those who want more mileage, you can add Holmquist Hollow.
Each experience at Libby Hill offers a new adventure! Whether it be one's senses being fulfilled during a run, ski, mountain bike ride, hike, etc. during any one of the four seasons or by seeing a glimpse of some wildlife such as deer, porcupine, squirrels, a fox, beaver, many birds, and an occasional moose.
So, the trails await at Libby Hill for those runners looking for a physically challenging yet fun run on soft ground with the sounds and sights of nature around you in a forest environment.
Happy Trails!
Also see our annual running event, The Longest Day 5K!