Whether you want to meet your daily step goals with a casual walk or challenge yourself with a full hiking workout. Libby Hill Trails has a route for everyone. With twelve miles of trails at Libby Hill and now an additional three miles at Thayer Brook Preserve you have many combinations of routes for your adventure.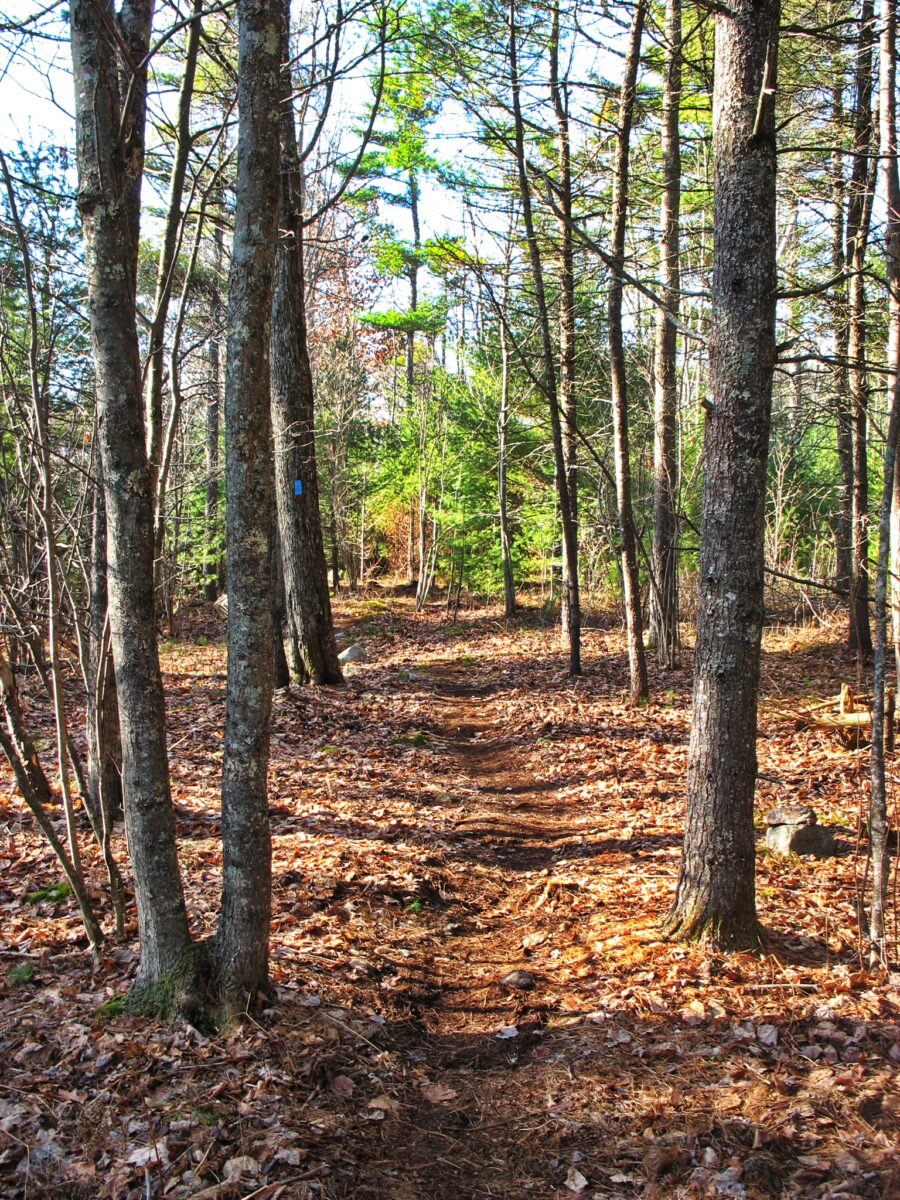 Hiking versus Walking
The difference between these two activities is gray and subjective. I'll make a few observations that may help you decide what trails are best for you. Our wide blazed trails that are used for skiing are ideal for walking. This is because they have had most rocks and roots removed and have gradual inclines. Keep in mind though, you can't walk on them when ski season is in session. Otherwise for the rest of the year, they give you five miles of wide, park-like, strolling experiences. We also have four miles of narrow blazed trails. These trails can be used year-round but have characteristics common to hiking trails. This includes frequent roots, rocks, and occasional steep inclines. Libby Hill has gravelly soil that is usually quite dry and hiking boots are not required most of the time. A full list of all our trails is below or check out our suggested hikes that combine the best of our trails. We also have an extensive navigation guide to Libby Hill.
Walking Trails
| | | | |
| --- | --- | --- | --- |
| Trail | Color | Length | Comments |
| Moose Odyssey | White | 3.1 mi | Starts and ends at Middle School basketball field. Great first walk of Libby Hill. Passes by old foundation and has two views at the rock wall. There are many intersections with ATV/Snowmobile and other unmarked trails. |
| Deer Run | Yellow | 0.3 mi | A connector loop at the summit of Libby Hill. Can be used to create a shorter hike when combined with Moose Odyssey. There are many intersections with unmarked trails in this area. |
| Holmquist Hollow | Blue | 0.6 mi | The steepest wide trail drops into a beautiful hardwood grove. Can be combined with Moose Odyssey for a little extra spice to your hike. |
| Turkey Trot | Red | 0.6 mi | It starts behind the green shed by middle school's outdoor classroom and ends at the basketball court and entrance to Moose Odyssey. This trail includes views of the middle school pond which has many types of birds. Part of the trail goes on the edge of the soccer/baseball field watch for red blazes. |
Wide and Smooth Ski Trails Closed to Hiking When Trails are Groomed
Hiking Trails
| | | | |
| --- | --- | --- | --- |
| Trail | Color | Length | Comments |
| Lynx | Blue | 0.6 mi | Gateway trail that is located diagonally across from parking lot. Watch for unmarked trail intersections and keep on blue trail. At the top of the hill, it has connections to the Moose Odyssey, Ghost, Harold Libbey, and Upper Trail. |
| Harold Libbey | Red | 1.3 mi | A quiet loop trail that connects to the Outback trail. It has an inner and outer loop that can allow you to do a short or longer loop. Climbs a high moraine ridge with the largest rock on the property. |
| Outback | Yellow | 1.0 mi | Crosses Thayer Brook and provides a loop that contains views of Thayer Marsh and porcupine rock. It also connects to Thayer Brook Preserve at the Ridge Runner trail junction. |
| Ghost | Blue | 0.6 mi | This is the remains (ghost) of the old cross-country trail on Libby Hill. It contains the black gum tree and an old quarry and ends on the Moose Odyssey Trail. |
Narrow Hiking Trails with Roots and Rocks Open Year Round
Thayer Brook Preserve (TBP) Trails for Combination with Libby Hill Hikes
| | | | |
| --- | --- | --- | --- |
| Trail | Color | Length | Comments |
| Upper Trail | Orange | 0.7 mi | Connects at Lynx Trail and passes through a beautiful pine oak grove of trees. Connects to the Mill (ATV) trail that ends at Ramsdell Road. You can loop back to Libby Hill by using the Ridge Runner Trail to come back to Libby Hill. |
| Ridge Runner | Blue | 0.3 mi | Connects Mill Trail (ATV) to Libby Hill at the Outback Trail. It has nice groupings of boulders and is home to many deep woods birds such as scarlet tanagers, oven birds, and hermit thrushes. |
| Mill | Unmarked | 1.2 mi | This is an active ATV/Snowmobile trail that runs from Ramsdell Road to the Middle school and beyond. The section that connects Ramsdell to the Upper Trail is referred to as the Mill Trail. Please yield to motorized trail users and stay on trail. After Thayer Brook, this trail is on private land so, please respect their rights and keep on trail. This trail allows looping hikes between Thayer Brook and Libby Hill Trails. |
Thayer Brook Trails accessible from Outback and Lynx Trails
For detailed suggested trail combination hikes visit our suggested hikes page.