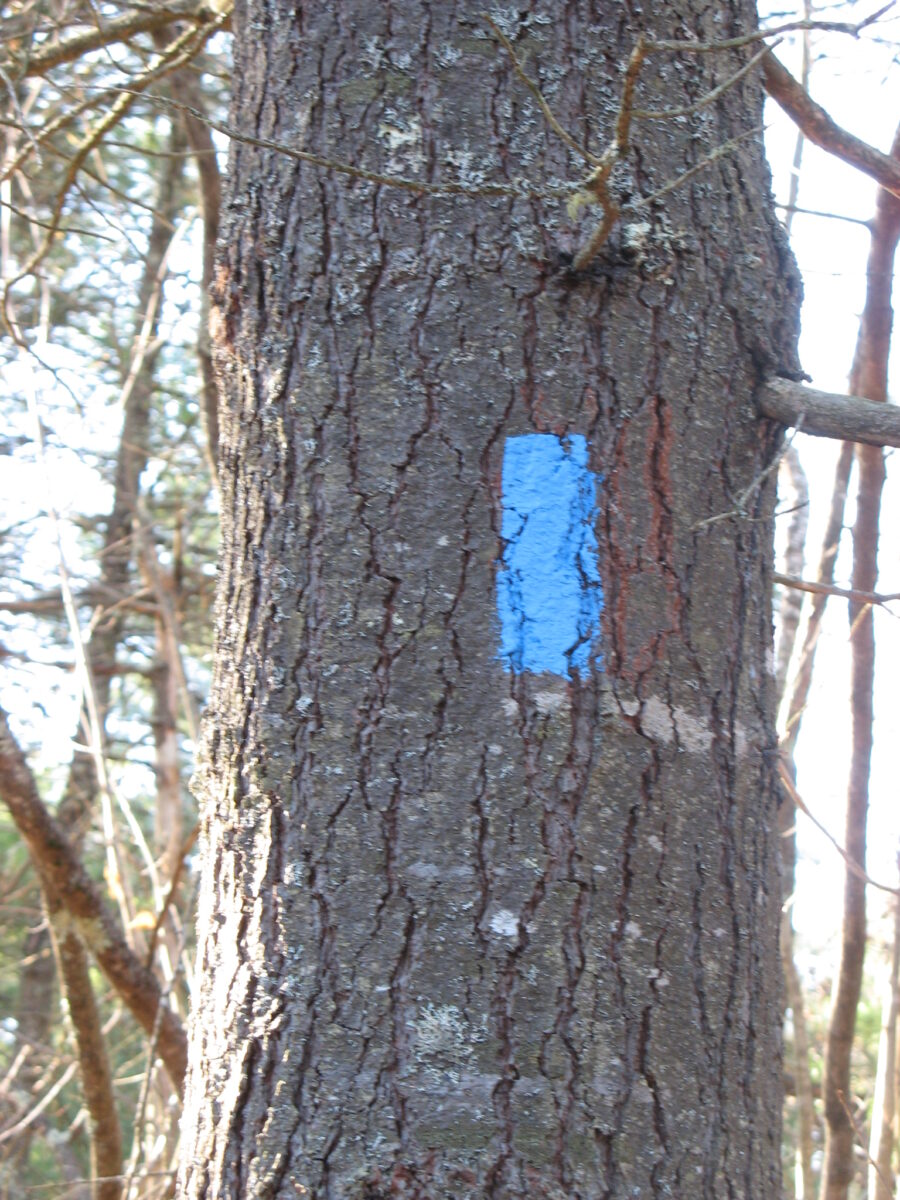 Libby Hill now contains over eleven miles of trails that are contained within two hundred acres of land. This high density of trails results in challenges in representing trails and intersections on a single printed map. For this reason, we are currently only representing trails with blazes on our maps. You may access the narrow-unmarked mountain bike trails on several digital mapping apps, please see them on our Digital Maps page. A general rule of thumb for new trail users is to stay on blazed trails only. If you wander off on non-blazed trails, be sure you are comfortable navigation apps or with topo or mountain bike maps to find your way. We also have more details on each trail on our Hiking Page and a Suggested Hikes Page.
Blazed Trails
Wide Blazed Trails – These are designed for cross-country skiing are consist of four major trails, Moose Odyssey, Deer Run, Turkey Trot, and Holmquist Hollow. These are color coded with paint blazes on trees that match the printed and Google Digital Map. Please note, when these trails are groomed for skiing, non-skiers are not allowed.
Narrow Blazed Trails – These narrow track trails are designed for hiking, snowshoeing, and mountain biking. You may use these trails in winter for snowshoeing and hiking. Blazes will match our printed and Google Maps.
Colors and Blaze methods – Trails are currently blazed with the colors of
White (Moose Odyssey)
Blue (Lynx, Ghost)
Red (Harold Libbey, Turkey Trot)
Yellow (Outback)
We use colors that are easy to see and avoid using the same color on trails that intersect. A few trails such as Moose Odyssey, Harold Libbey, and Turkey Trot have connector trails. These trails will have two colors with the outer color indicating which trail is connected. For the wide trails, these connectors are used by snow groomers and for the Harold Libbey trail, it is designed to do a shorter loop hike. Map trail colors match the blaze colors except for Moose Odyssey which is represented by white and black lines to allow for easier reading.
Trails without Blazes
Unmarked Mountain Bike Trails – New narrow unmarked trails for mountain biking exist at several areas on Libby Hill. Because of their density and multiple intersections signage and map making is not being supported. Most mountain bikers use digital map applications and navigate those trails using those. You are more than welcome to explore these trails but be aware they can be difficult to navigate without an app and may lead you off property to private landowners.
ATV/Snowmobile Trails – These wide and eroded trails are easy to recognize. Two miles of these trails connect Ramsdell Road to Crystal Lake, and they intersect the trails several times. They do have some signage but keep in mind they do lead off the Libby Hill property. Please move off trails when vehicles approach.
Old Libby Hill Road – This road begins just beyond the parking area and is a gravel road that services two streets up the hill and continues toward Little Sebago Lake. Note this is a private road that is co-owned by all the landowners, including the Town of Gray and GCE. We encourage you to use this road only for rapid exits from the top of the hill and minimize your usage of it. No parking is allowed anywhere along this road, including at the gate at the top of the hill. The gate near the cell tower driveway is closed most of the time. Only authorized landowners and trail maintenance crews are allowed beyond the gate.
Unusual Blazes
You may notice pink markings on two of our property boundaries on the Outback and Harold Libbey Trails. These are for survey purposes only and not intended for navigation. You may also see other survey marks of varying colors on other boundaries. Survey marks can be distinguished by the straight line they form that is usually not cut out for trails. Finally, you may see some orange slash marks on trees in unusual places. The forest manager uses these to assess tree removal in future. They are not intended for navigation.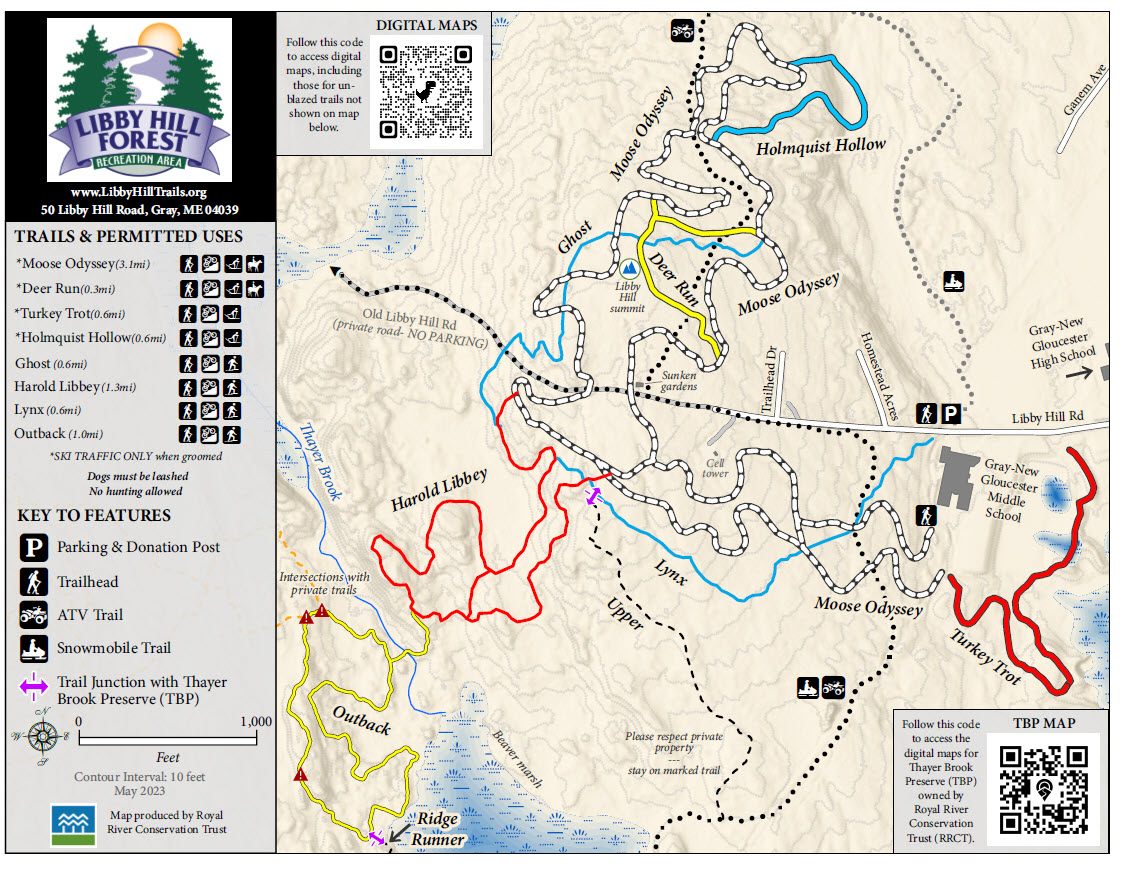 Posted Maps
Maps are posted at most intersections of blazed trails and trail heads. You should also see a sticker saying, "You are here". These maps have a life span of approximately two years and can fade at the end of their life. Please visit our maps page to print your own copy or access our digital maps which will show you your exact location.
Be Aware of Trail Boundaries
Please be aware that when you leave Libby Hill Trails you are on private land. Local landowners have been very gracious, allowing snowmobile, ATV, and mountain bike trails to cross their land. Their usage is a privilege not a right so respect landowners' properties when you leave Libby Hill Trails. Some landowners have posted their properties and you need to avoid those parcels if you leave our trail system.